In this article, we will cover the journey of Jeevitha Rajapandian, a dedicated homemaker and mother. She built a Power Platform App solution to enhance students' safety and reduce pickup-times in schools and childcare centers.
Following her daughter's birth, Jeevitha took a few years away from her career to dedicate time to raise her daughter. Now, with the passion for getting back to work, and 'no formal background in coding,' she took it upon herself to learn Power Platform features. And while learning the nuances of PowerApps, she used it along with SharePoint Online to develop an app that could automate the pickup process in schools and childcare centers while enhancing safety and time management. The best is yet to come as her solution can be used in schools and childcare across states.
Scenario
Schools and child care centres in the US are currently employing a manual student pickup process.
It is a regular day for Jeevitha to drive into her daughter's school, with placards carrying details of her ward. After a thorough inspection, the teachers would release her daughter to ensure her safety. This daily process seemed to become arduous and time-consuming. And with her daily visits, Jeevitha realized that this was an area with potential.
She discerned that teachers and administrators needed a digital solution to automate the student pickup process while enhancing safety and reducing pick up time.
Before PowerApps – process, challenges and opportunities
During the normal pickup process after school, teachers keep track of student details displayed by parents in the car and assess the vehicle to ensure that the student's safety is not compromised.
Once the vehicles pass the assessment, the students are released and allowed to go home. Since manually checking each vehicle takes time and effort, there could be potential delays in releasing a student.
The main challenges are:
It is a time-consuming process as teachers need to spend more time after school to ensure that all their students have gone home safely
The process could get further delayed if parents arrive in different vehicles, which may lead to uncertainty.
The process is not human error-free, and this could impact the safety of the student.
Power Platform Solution – Pick my Joy
Jeevitha, like most mothers, was concerned about the safety and welfare of the child. Yet she realized that she was spending more time than necessary to pick up her ward from school.
With lockdowns easing and schools and child care centers opening up, she felt that this was an area with untapped potential. She built a PowerApps solution that could streamline the process and make it easier for parents and teachers while ensuring student's safety.
Having little to no coding background, she quickly learned PowerApps and used it along with SharePoint online to create her app. She quickly grasped the functionality of PowerApps.
The main solutions are:
All student details including names, photos, authorized vehicle and release details can be seamlessly integrated into the app.
By using barcode scanner control, all the stored data can be easily retrieved and verified.
By automating the pickup process, time and human effort can be minimized.
The potential for human error is reduced, enhancing the safety of students.
Future projections
With PowerApps specialists discovering ways to incorporate license plate reading capabilities utilizing the Power Platform's AI Builder, barcodes could be replaced by license plate number. Replacing barcodes further simplifies the process, offering ease and convenience. Innovation and practicality are the key focuses of the app.
PowerApps is an excellent tool for innovators with little to no background in coding. Along with SharePoint Online, they are transforming the way apps are built. Do you have limited time and resources? Doesn't matter. Are you a citizen developer? Even better. With PowerApps, your ideas can now become realities.
App Demo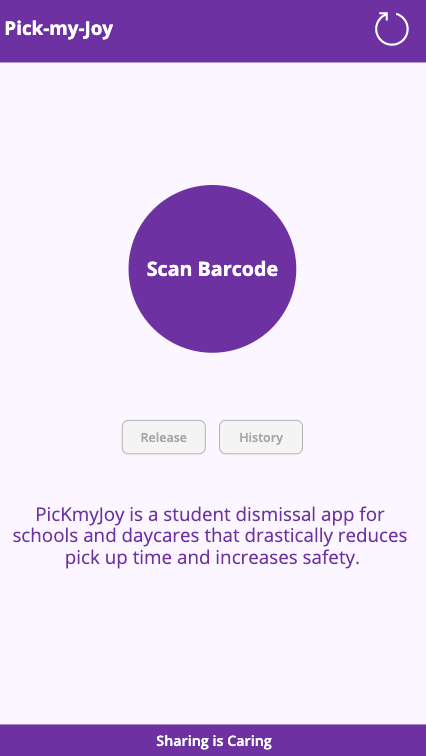 SharePoint Lists Used